Miniware TS101 Smart Soldering Iron was released this last september and I was fortunate to receive one of the first units for review.
I has previously tested Miniware products like the Miniware MHP30 Mini Hot Plate Preheater or the Miniware DS212 Mini Oscilloscope and although the quality was there and not debatable, the price range was not for every wallet.
As always, my mantra is that you pay what you get and for what you get the price was reasonable.
Regarding the Miniware TS101 Smart Soldering Station, it is the evolution of it's predecessor sales hit, the TS100.
The TS100 and now the Miniware TS101 Smart Soldering Iron, have a price range extremely atractive for what is delivered to you.
On a price range around 62€ or $61, at the time of the writing of this article the exchange rate was about the same, it is a very good price for a soldering iron with such a good performance.
Some of the TS101 features are listed bellow:
Display
OLED 128×32 dpi
Power connectors
USB Type-C & DC5525
Max power
45W USB-C PD 3.0 (9V to 20V)
65W DC (9V to 24V)
Temperature range
50º to 400º
Temperature stability
±2%
Tip resistance to ground
< 2Ω
Tips
9 models (TS100 tips compatible)
Other Features
3 temperature presets
Auto sleep
Auto screen off
Boost mode
Dynamic detection
Firmware upgradable
Power
In my test I manage to get the Miniware TS101 Smart Soldering Iron to reach 300º C in about 9s, this using USB Type-C PD. Pretty acceptable time considering that you're using a USB power supply (45W max) to feed the power.
If you choose the DC connector using 24V, you can reach a maximum of 65W with even better performances.
You can buy the XT60 to DC5525 adapter and power the iron with a Lipo battery or just simply a power bank and make really portable.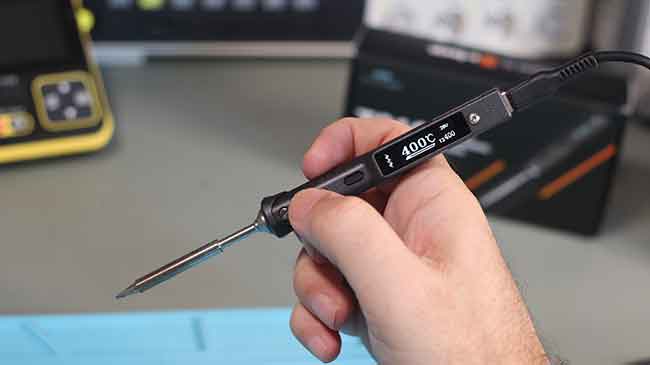 Usability
The iron it self is well designed and fit very confortably in your hand.
The OLED screen, is a bit larger than the TS100 and is very visible and giving you all the information needed.
One of the changes was precisely the addition of a carved area for better grip and the new multifunctional anti-slip cap, that prevents your finger to slide to the hot area.
This cap can be used also to easy remove the tip from the soldering iron.
In terms of the menu, is easy to learn and after a few try and error moments, I got the grip of it without any problem.
It melts tin very well and in the video you can even see me soldering an 14 AWG to a PCB for testing.
One cool thing about Miniware is that they open source a lot of times their firmware code, so you can even download the code and the schematics from their website.
Tips
The tips, as expected, are compatible with the TS100 model.
On the Miniware website, other than the TS-B2 that was delivered with my unit, you have also available 8 other models.
In terms of price, you can find the Miniware originals around 10€ to 13€, that I highly recomend, but you have also the parallel products around 5€ to 7€.
Conclusion
The experience with the Miniware TS101 Smart Soldering Iron was really good. It handles very well in the hand.
In terms of performance as recorded, the 9s to reach 300º C is very good, again, powered by USB power supply.
The price, considering the quality of the TS101 is very good and it is a good option not only for professionals, but also for hobbyist that want a good solutions without a major investment.
If you found this unit, as I did, worthy of your investment, please use the following link to make your purchase: 🛒 https://geni.us/bm6l3u
You can watch the complete review bellow on Youtube.
The affiliate links on this page allow us, without increasing your buy price, to receive a small fee in the case of you buying any of the items through our links. If you like to support TechCorner.TV, please use the provided affiliate links for your shopping.
TechCorner.TV Channels 🇺🇸 🇬🇧
⭐ Electronics – TechCornerTV – Eletronics, Projects & Tutorials
⭐ Tech & Consumer Electronics – TechCornerTV – Reviews & Tips
⭐ Unboxing & First Impressions – TechCornerTV – Mailbag day – Every monday at 8:00 AM GMT
Canais TechCorner.TV 🇵🇹 🇧🇷
⭐ Eletrónica (Reviews, Projetos & Tutoriais) – TechCornerTV – Eletrónica em Português
⭐ Tecnologia & Eletrónica de Consumo – TechCornerTV – Reviews e Dicas

Thank you for reading this article. ❤
If you liked, please share it, spread the love, pass the message on social networks and help us grow.