Programmable arbitray function generator
Juntek PSG9080 is a 80Mhz bandwidth programmable arbitrary function/signal generator packed with features and support for Windows, Android and iPhone iOS management support.
A lot of featuers, but will it worth the money? Let's find out.
This is one of those devices that I always had my eyes on for review. To be honest, if I didn't had the channel and only wanted to play a bit with electronics without serious investment as I did when I started, this will be, considering the features and specs, the function generator that I would bought.
Why? Because it has 80Mhz bandwidth (sinewave), is packed with a lot of functions, is a bench programmable arbitrary function generator and for a very accessible price.
So, when Juntek contact me for review this device, I was happy to finally put my hands on this unit. Spoiler alert, my initial expectations about this equipment were confirmed.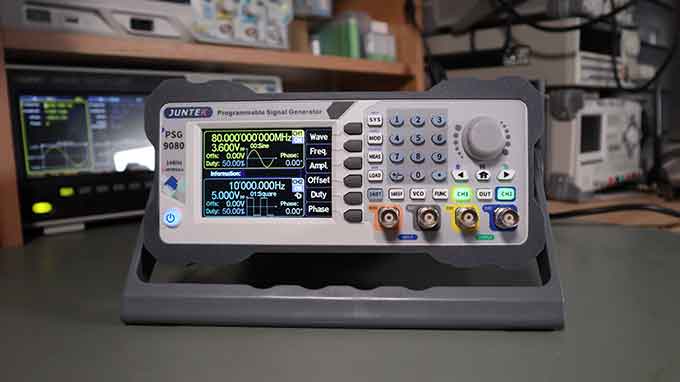 On the back you have 2 Sync BNC's, a USB type-B connector por PC connection, a 220V power socket, an aditional power supply socket for external power supply and a external expansion connecto where you can connect the wireless bluetooth dongle.
The front is quite complete as you expect on any bench function generator. You have the usal knob for fine tunning, a keyboard, several menu selection keys, another 2 BNC's for sync and 2 BNC's for signal output (2 channels).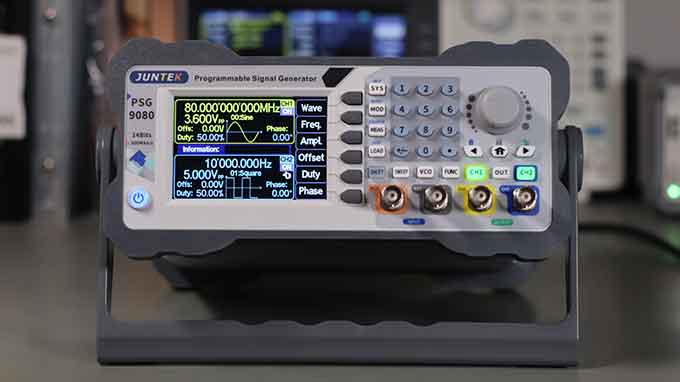 In terms of features this what we get:
Channels
2
Bandwidth
1nHz to 80Mhz
Vertical resolution
14 bits
Sampling rate
300MSa/s
Wave length
8192 points/channel
Waveform types
Sine wave, square wave, pulse wave (duty ratio, pulse width and cycle time can be precisely set), triangle wave, rising ramp, falling ramp, CMOS wave, DC level, half wave, full wave, positive step wave, Inverse staircase wave, exponential rise, exponential fall, Lorentz pulse wave, multisonic wave, random noise wave, trapezoidal pulse wave, Sinker pulse wave, and 99 sets of user-defined waveforms.
Square wave
1nHz to 30Mhz
Triangle wave
1nHz to 50Mhz
Frequency resolution
1nHz
Rise/fall time
≤10nS
Builtin waveforms
21
Arbitrary waveforms
99
Total harmonic distortion
≤0.5% (@1Khz, 5Vpp)
Amplitude range
Frequency<1MHz,2mVpp~25Vpp
1MHz≤Frequency<11MHz,2mVpp~10Vpp
11MHz≤Frequency<60MHz,2mVpp~5Vpp
60MHz≤Frequency≤80MHz,2mVpp~3.6Vpp
Amplitude resolution
1mVpp
Amplitude stability
± 1% ±1mVpp (@ 1kHz,>10mVpp)
Amplitude flatness
Frequency≤10MHz:±1%(0.1dB)
10MHz<Frequency≤50MHz:±2%(0.2dB)
50MHz<Frequency≤60MHz:±10%(0.9dB)
Offset range
-9.99V-12.00V
Offset resolution
0.01V
Phase adjustment range
0°-359.9°
Resolution
0.1º
Output impedance
50Ω (typical)
Modulation type
AM、FM、PM、ASK、FSK、PSK、PWM
Trigger source
Manual burst, CH2 burst, external burst (AC), external burst (DC)
Measure functions
Frequency, positive and negative pulse width, period, duty cycle
Counter range
0-4294967295
Sweep function
Sweep frequency, sweep amplitude, sweep duty
Sweep mode
Linear, logarithmic
Sync functions
Yes
VCO function
Frequency control, amplitude control, and duty cycle control
Running mode
Debugging、normal
In terms of usage, the interface is easy to control, has very small learning curve and is very customizable. You have a 3.5″ color TFT screen that will give you a organized information of everything that is going on.
The test I made went ok, you have the video bellow to check it out and the overall feeling while using this unit is pretty good.
To be honest and considering the price, this unit is really awesome. Juntek did a very good job on the PSG9080 and I am really glad they allow me to test it, since I could confirm the feeling I have about it.
As always, my mantra is "You get, what you pay for" but in this case, I think that you get a bit more of what you paid. It was really a nice experience to work with it.
So, do you want to know more about the Juntek PSG9080, see it here clicking on the following link: https://geni.us/StaoIc
You have bellow my review on Youtube about this device, don't miss it!
TechCorner.TV Channels 🇺🇸 🇬🇧
⭐ Electronics – TechCornerTV – Eletronics, Projects & Tutorials
⭐ Tech & Consumer Electronics – TechCornerTV – Reviews & Tips
⭐ Unboxing & First Impressions – TechCornerTV – Mailbag day – Every monday at 8:00 AM GMT
Canais TechCorner.TV 🇵🇹 🇧🇷
⭐ Eletrónica (Reviews, Projetos & Tutoriais) – TechCornerTV – Eletrónica em Português
⭐ Tecnologia & Eletrónica de Consumo – TechCornerTV – Reviews e Dicas

The affiliate links on this page allow us, without increasing your buy price, to receive a small fee in the case of you buying any of the items through our links. If you like to support TechCorner.TV, please use the provided affiliate links for your shopping.
Thank you for reading this article. ❤
If you liked, please share it, spread the love, pass the message on social networks and help us grow.