One of the problems I had while testing oscilloscopes and multimeters is having a common stable mV voltage power supply.
While I do have an awesome Rigol DP832 power supply that can go from 1mV to 30V, I learned from previous tests that the values are good but tend to have one or other variation.
I really wanted something that will give me always the same results and after some research I decided to create a mV Voltage Reference Board based on the voltage dividers.
If you're unfamiliar with voltage dividers you can learn more about in this article of Learn About Electrocnics where the voltage dividers are explained, but in a nutshell, if you have 2 resistors in series and you connect fase to a resistor end and the common to the end of the other resistor, the point in the middle of two resistors will have a voltage strepdown according the two resistors resistance. See the Learn About Electronics article to better understan the mechanics of the voltage divider.
I decided that for this project will have several reverence voltages in ascending order, 10mV, 25mv, 50mV, 100mV, 250mV, 500mV, 1V, 2.5V and 5V. For that I dedigned the following board: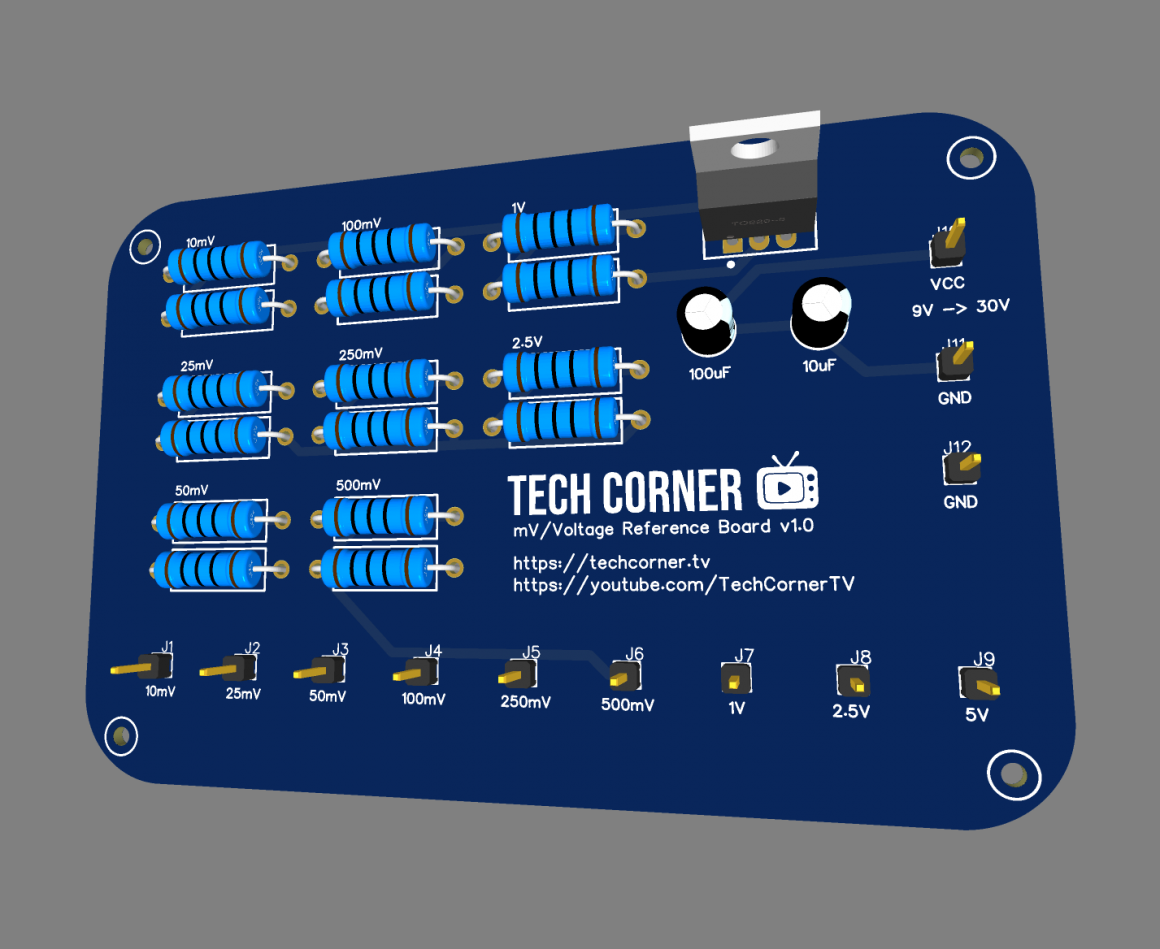 You can order 5 PCB's for $5 or find the schematics on PCBWay. PCBWay is the sponsor of this project and you here the link for the project files mv Voltage Reference Board.
Use our affiliate access link (https://www.techcorner.tv/pcbway)to have a $5 discount on your first order.
I hope that you enjoy this simple but useful project! You have bellow the youtube video of this project.
TechCorner.TV Channels 🇺🇸 🇬🇧
⭐ Electronics – TechCornerTV – Eletronics, Projects & Tutorials
⭐ Tech & Consumer Electronics – TechCornerTV – Reviews & Tips
⭐ Unboxing & First Impressions – TechCornerTV – Mailbag day – Every monday at 8:00 AM GMT
Canais TechCorner.TV 🇵🇹 🇧🇷
⭐ Eletrónica (Reviews, Projetos & Tutoriais) – TechCornerTV – Eletrónica em Português
⭐ Tecnologia & Eletrónica de Consumo – TechCornerTV – Reviews e Dicas

The affiliate links on this page allow us, without increasing your buy price, to receive a small fee in the case of you buying any of the items through our links. If you like to support TechCorner.TV, please use the provided affiliate links for your shopping.
Thank you for reading this article. ❤
If you liked, please share it, spread the love, pass the message on social networks and help us grow.