Micsig STO1004 tablet oscilloscope was the first oscilloscope that I had the chance to review from Micsig. The channel at the time of writing this article has a bit over one and half years and there wasn't a chance up until now to test some Micsig equipment.
When Micsig informed that they wanted to send a unit for review, I was really looking forward to this review, overall I had good feedback about the micsig equipment, but it's all very nice until we have a device in our hands to test.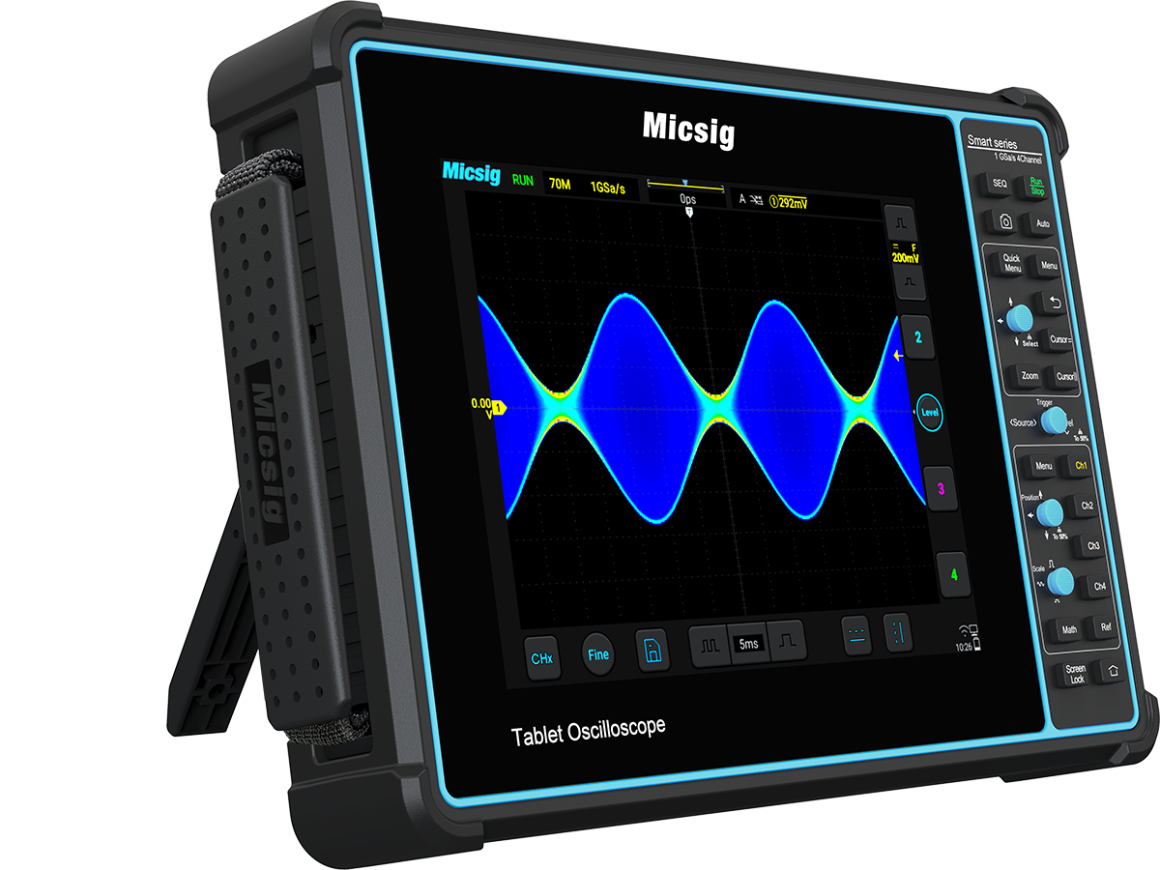 One of the problems with the oscilloscopes is that the hardware is designed and the components used are to the limit of what they need to do, so this creates some bottlenecks on some functions that require a bit more processing, like mode XY or FFT.
As soom I started to work with the STO1004, everything was very fluid, very fast. The auto function is very fast, the scroll is very fast and fluid, the screen update speed (for example opening a new menu), everything responded in a very fast speed.
This might be because the oscilloscope itself is a application on the tablet that runs Android 11 and Micsig (and here I am conjecturing) understood if they failed to put some power on the base of this oscilloscope, the system would drag on response times.
The learning curve, specially if worked already with other oscilloscopes, is very fast. You get the hand of if, in very short time.
PROBES
You receive a set of four 100Mhz probes. They're will not have the normal 1x or 10x selector, because they uese the Micsig Universal Probe Interface (UPI), that according Micsig give you an "intelligent bi-directional oscilloscope to probe communication, easy to set up attenuation and calibration."
Yeah, it seemed to work ok.
Specifications
In terms of the Micsig STO1004 as tablet it self, as the following specs:
| | |
| --- | --- |
| Display | 8-inch TFT LCD multi-point capacitive touch screen |
| Display Resolution | 800*600 pixels |
| Operation Method | Touch, Button, Touch + Button |
| Storage | Local (32GB) / USB drive |
| Interfaces | Wi-Fi, USB 3.0/2.0 Host, USB Type-C, Grounding, HDMI, Trigger out |
| OS | Android 11 |
| Remote Control | Yes (PC & Mobile – Android & iOS apps) |
| Language | English, Chinese, German, French, Czech, Korean, Spanish, Italian, etc. |
| Battery | 7.4V 7500mAh (5 hours continous operation) |
| Peripherals supported | Yes, HDMI output, USB mouse & keyboard, among others |
| | |

Regarding the Micsig STO1004 oscilloscope specs we have:
Analog Channels
4
Bandwidth
100Mhz
Sampling Rate (Max.)
1GSa/s (single channel)
Memory Depth
70Mpts (single channel)
Waveform Capture Rate (Max.)
130,000 wfms/s
Bandwidth Filter
20MHz, High Pass, Low Pass
Input Coupling
DC, AC, GND
Rise Time
≤ 3.5ns
Input Impedance
1MΩ ±1% || 14.5pF ±3pF
Vertical Resolution
8 bits
Input Sensitivity Range
1mV/div ~ 10V/div (1MΩ Input)
Time Base
2ns/div ~ 1ks/div
Color Temperature
Yes, 256 tones
Protocol Decoding
UART, CAN, LIN, SPI, I²C
FFT
Yes
XY Mode
Yes
Math functions
Yes, Dual Waveform, FFT, Advance Math
Trigger Types
Edge, Pulse Width, Logic, Video, Time Out, Slope, Runt, N Edge
Cursors
Yes, Horizontal, Vertical & Cross
Auto measurements
31 types, of which up to 10 types can be displayed on-screen at any time. Including:
Period, Frequency, Rise Time, Fall Time, Delay, Positive Duty Cycle, Negative Duty Cycle, Positive Pulse Width, Negative Pulse Width, Burst Width, Positive Overshoot, Negative Overshoot, Phase, Peak-to-Peak
If you want to read the complete datasheet of the Micsig STO1004 tablet oscilloscope, you have on the end this page the link to download the datascheet,
Max bandwidth test
So, in terms of system operation, everything run smoothly but how about the bandwidth test, it really supports the 100Mhz?
As you know, if you follow my channel, the Owon XDG2100 sent by Owon by reveiew and that I use on my reviews to test other equipments, goes up 100Mhz, so I could take the bandwith to the maximum and I did.
With a 100Mhz sinewave and 1Vpp signal, the voltage drop on the Micsig STO1004 was minimum, staying above the 714mV of the -3dB drop, so at least using this method, I got a Vpp of 724mV to 741mV oscillating a bit between these two values.
With a function generator with higher bandwidth, I could test what bandwidth will be supported over the 100Mhz, I believe that it should go up to 110Mhz more or less, but was not able to test it.
Interfaces
One cool thing about this oscilloscope, is the Android OS 11 and all that comes with it. Since we are using and Android OS, is easy to use pheriferals to extend the oscilloscope capabilities, I'm talking about, mouse, keyboard, image projectors, Wi-Fi or external USB hubs with ethernet ports or Display port or whatever.
The expansion is great and since I had some issues with the reflexion of the screen (after solved by applying the included screen protector), I used the HDMI (1.4) to export the image directly to my CamLink 4K and save it to my PC.
The possibilites are endless.
Remote control
Finally I found an oscilloscope with a decent remote control software. The software itself is very simple and is lacking to addicional buttons to activate the Quick Menu and also the Menu.
On the Micsig STO1004 tablet oscilloscope, you'll have both buttons and can activate also the menus using the swipe from the top or bottom. On the PC, while using the remote software, that doesn't seem possible.
Other than this small detail, it detected immediatelly my STO1004 on the network and connected without any problem, the process is effortless.
The response times where amazing, is almost equal to work directly on the oscilloscope and you can access, not only the oscilloscope, but all the software in the system, is like having a VNC, Anydesk, Teamview or whatever remote session, directly to your oscilloscope, really awesome!
Overall experience
The oeverall experience was very positive, for all the details you should watch the review video bellow.
But in general, this is a great tool for professionals (and even hobbyists that have the possibility to aquire this unit), it's precise and very complete in terms of trigger types, includes 2 channels for protocol decoding, math functions and a lot more features.
If you want to buy one, please click here to use the affiliate link to help the channel, while paying exactly the same, it will not cost you a cent more.
The affiliate links on this page allow us, without increasing your buy price, to receive a small fee in the case of you buying any of the items through our links. If you like to support TechCorner.TV, please use the provided affiliate links for your shopping.
TechCorner.TV Channels 🇺🇸 🇬🇧
⭐ Electronics – TechCornerTV – Eletronics, Projects & Tutorials
⭐ Tech & Consumer Electronics – TechCornerTV – Reviews & Tips
⭐ Unboxing & First Impressions – TechCornerTV – Mailbag day – Every monday at 8:00 AM GMT
Canais TechCorner.TV 🇵🇹 🇧🇷
⭐ Eletrónica (Reviews, Projetos & Tutoriais) – TechCornerTV – Eletrónica em Português
⭐ Tecnologia & Eletrónica de Consumo – TechCornerTV – Reviews e Dicas

Thank you for reading this article. ❤
If you liked, please share it, spread the love, pass the message on social networks and help us grow.