In this episode I got the Lenovo L01 bluetooth speaker for review, so stay there that I will test it and resume everything to you.
When you ear Lenovo, what you think is laptops, maybe workstations or servers, but there isn't much Lenovo products outside the IT area.
The Lenovo brand appear in 2003 as a global expansion strategy from the chinese IT manufacturer Legend, that in 2005 adquired the Personal Computer division from IBM, where the epic ThinkPad was developed and it was for many year a Lenovo success.
For many years, you never heard anything about Lenovo that isn't related with IT market like, Laptops, PCs, workstation, servers or complementary equipment. But recently, it seems Lenovo is interested in open the horizons to the consumer electronics, we are talking about Bluetooth speakers, smart watches, earphones, headsets, among others, in a move to explore the market and evaluate what is the acceptance of those products among the public.
I am here talking about quality products at killer prices, at least that is my opinion, and I think that these lower prices are a strategy to create a brand name among these consumer devices as fast as possible, sell good and cheap!
In all these Lenovo products, I found the L01 Wireless Bluetooth Speaker, a very small speaker that fits in your hand, I think that this is the main idea, considering the bracelet that comes in the box and it is obviously targeting a younger public.
It has a very good finish, with a sleek look and mate finishing, that is supplied with a bunch of colors available to you choose from. As you can see bellow, there is one color for each taste!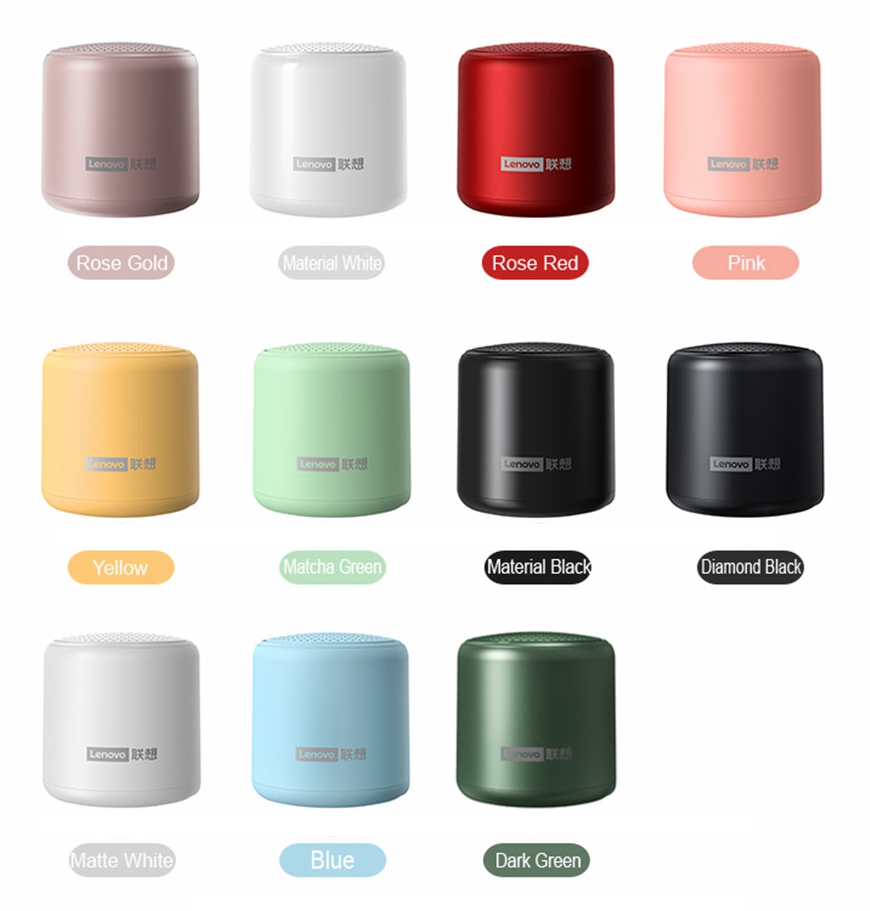 Some of the features are:
| | |
| --- | --- |
| Color | Several available |
| Battery charging | 5V DC MicroUSB 1A |
| Battery | 400 mAh |
| Play time | 3 to 5 hours |
| TWS function (stereo pairing with other devices) | 10 meters |
| Frequency range | 20Hz a 20KHz |
| Impedence | 4 Ω |
| Horn size | 36mm |
| SNR | ≥ 75db |
| Material | ABS |
| Weight | 53.6g |
| | |
As you can see in the video, despite the speaker is at maximum power, it doesn't has any distortion in the sound and outputs a clear and quality sound.
The setup is very easy, you have only to press the power button to turn the speaker on and continue pressing the button until a small blue light starts blinking, at that moment go to your device (mobile, tablet, computer, whatever) and pair the device with the speaker, it should appear in the add Bluetooth device area the "Lenovo" string, select it and you're ready to go, so easy!
You can control the start and stop music with a click on the power button in the speaker and to turn the speaker off, just keep pressing the power button until it shutdown.
The supplied bracelet allow you to carry the speaker in your hand without the risk of accidentally let it fall, a nice detail.
If you want to know more about the Lenovo L01, see it here 🛒 https://geni.us/fyx1Ic
POST PUBLISH ADD TO THE ARTICLE
After this article and videos are finished, are received a answer to a message I've sent to the seller of the speaker on Aliexpress asking for the English instructions for the device, well I didn't receive a PDF as expected, but even so, the image they sent already add answer to some questions, one of them is, how the hell I make the lady in the speaker to talk english instead of mandarin! See the image bellow for some additional instructions:
You can see the video for this article on the top of page and please visit our Youtube channels for more interesting videos.
TechCorner.TV Channels 🇺🇸 🇬🇧
⭐ Electronics – TechCornerTV – Eletronics, Projects & Tutorials
⭐ Tech & Consumer Electronics – TechCornerTV – Reviews & Tips
⭐ Unboxing & First Impressions – TechCornerTV – Mailbag day – Every monday at 8:00 AM GMT
Canais TechCorner.TV 🇵🇹 🇧🇷
⭐ Eletrónica (Reviews, Projetos & Tutoriais) – TechCornerTV – Eletrónica em Português
⭐ Tecnologia & Eletrónica de Consumo – TechCornerTV – Reviews e Dicas

The affiliate links on this page allow us, without increasing your buy price, to receive a small fee in the case of you buying any of the items through our links. If you like to support TechCorner.TV, please use the provided affiliate links for your shopping.
Thank you for reading this article. ❤
If you liked, please share it, spread the love, pass the message on social networks and help us grow.