The XY-LPWM3 PWM signal generator is a small Pulse Width Modulation (PWM) generator module that is able to generate square waves with a remarkable quality, considering the price and the device we have on hands.
The quality of the square waves is by far better than the ones generated by the FNIRSI function generator that I previouly reviewed on TechCorner.TV, hand it has a perfect square wave.
I will not enter in deep details about how the PWM works and what you can do with it, we will have soon an article and video (as always) about the subject and I will update then this article with the links for that specific article. However, I can right now say that PWM controllers are today in several aspects of our daily routine.
Every time you change the volume or light of your mobile phone or even use a remote control to change the intencity of a smart bulb/light, or any other function that we need some kind of potenciometer to change the power output, this technology is used.
And why should we use a PWM controller instead of analogic potenciometer? First, a potenciometer is a resistance, that means that will convert energy to heat, causing corrent loss and this is specially important if you're using battery powered device. Second, one advantage of using a PWM controller to control the power output is the possibility of exactly specify the amount of power that will be availabel by tweaking the dutty cycle, this on a fraction of second.
This XY-LPWM3 PWM signal generator module has the following characteristics:
| | |
| --- | --- |
| Output channels | 3 |
| Frequency range | 1Hz to 150Khz |
| Power input | 3.3 to 30V DC |
| Output current | 5 to 30mA |
| Communication | UART |
| Controls | Frequency and dutty cycle |
A Nuvoton N76E003 IC is in the control of all operation, it provides several interesting features like a 1T 8051 processor, 18Kb memory, timer and PWM generator, analogic interface, power control, clock control, GPIO and UART, SPI and PC communication.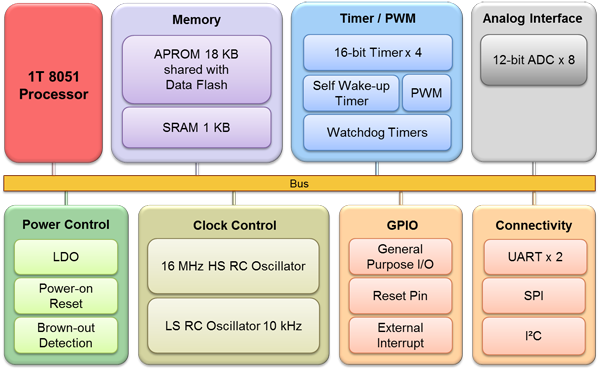 The display is controlled using Holtek HT1621B IC that comes with an internal oscilator with 256Khz and can be customized by software.
This small device was a great surprised and I was very impressed with the quality of the generated signal and the ease of usage.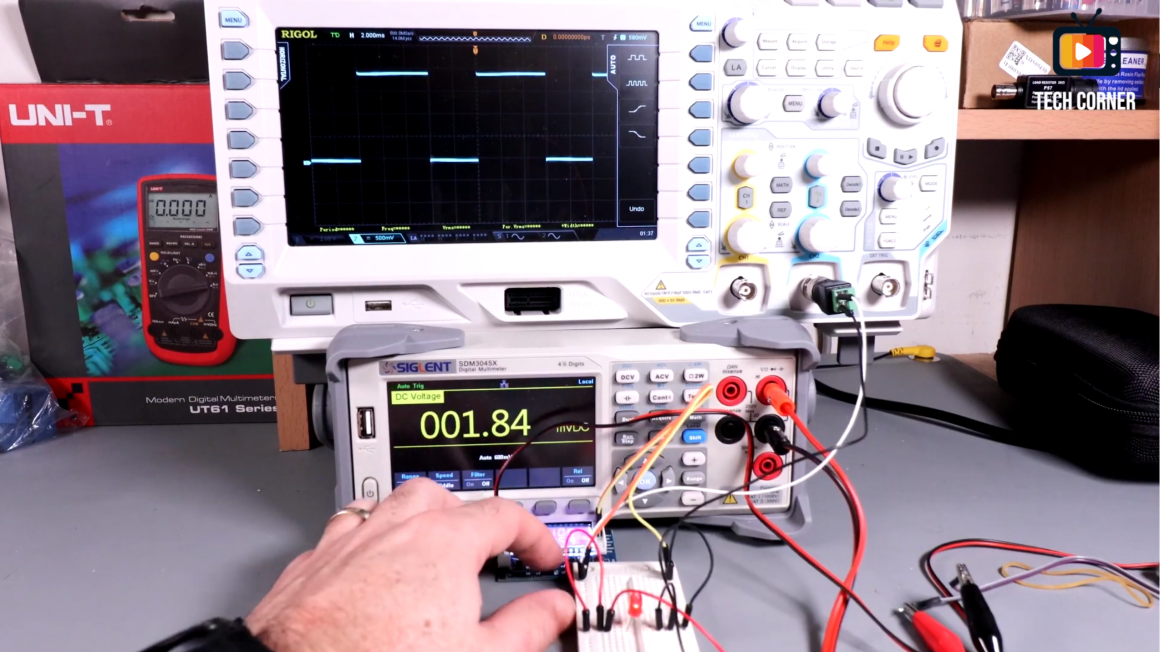 The cost is negligible and rounds about 4€ or something like $5, considering all the features available and the quality of the generated signal.
So the "pros" are:
Generated square wave quality is flawless
3 output channels
Adjustable frequency
Adjustable per channel dutty cycle
Communications port and proigrammable interface
Voltage range from 3.3v to 30v
Low price and high quality
For "cons" we have:
If you're interested in a module like this just for testing or to use on a project, where you can use it, for example as a dimmer, you can find it here XY-LPWM3.
You can watch the review video bellow where I explain every details of this device.
The affiliate links on this page allow us, without increasing your buy price, to receive a small fee in the case of you buying any of the items through our links. If you like to support TechCorner.TV, please use the provided affiliate links for your shopping.
TechCorner.TV Channels 🇺🇸 🇬🇧
⭐ Electronics – TechCornerTV – Eletronics, Projects & Tutorials
⭐ Tech & Consumer Electronics – TechCornerTV – Reviews & Tips
⭐ Unboxing & First Impressions – TechCornerTV – Mailbag day – Every monday at 8:00 AM GMT
Canais TechCorner.TV 🇵🇹 🇧🇷
⭐ Eletrónica (Reviews, Projetos & Tutoriais) – TechCornerTV – Eletrónica em Português
⭐ Tecnologia & Eletrónica de Consumo – TechCornerTV – Reviews e Dicas

Thank you for reading this article. ❤
If you liked, please share it, spread the love, pass the message on social networks and help us grow.