Arrived this week, sent by Owon for review, the Owon SPE3103 the 30V/10A/300W model of one of the six models available in the Owon SPE Series Power Supply (SPE3051, SPE3102, SPE6102, SPE6053, SPE3103, SPE6103).
I confess that when they sent me the PDF asking if I wanted to review this power supply, I was excited, not because they will send me material for review, which is always good, but because after seeing the specs I couldn't help but be curious with what was coming.
The SPE power supplies series a reduced dimensions, we are talking about 80 mm in width x 142 mm in height x 226 in length. I know there are power supplies with smaller dimensions, but if you consider a power supply with 300W and 10A, it's not that easy to find one.
This is only possible because we are talking here about a switching power supply instead of a linear one.
This type of power supplies uses a technology that you can find in basically on everything nowadays, from the brightness on your mobile phone to small power supplies, which is based on PWM (Pulse Width Modulation) that is nothing more than a square wave signal, so common in oscilloscopes where the power is controlled by the average that the signal is on or off. To learn more about this concept, check out the LPWM3 PWM Module video where I explain this technology in more detail.
Going back to the power supply, small in size but big in features, in the video I ended up not covering them all, but in terms of features you get:
Ultra-thin body, portable and easy to use
Several models between 30V and 60V voltages and 150W, 200W and 300W constant power
OVP – Over Voltage Protection
OCP – Overl Current Protection
Automatic power-on function for unattended usage
Inteligent temperature controled cooling fan for lower noise
High resolution at 10mV/1mA
4 memopry groups
USB PC connection and SCPI support
Constante voltage (CV) and Constante current (CC) modes
Color LCD 2.8″ display
In terms of available Owon SPE Series Power Supply models you have the following:
| | | | | | | |
| --- | --- | --- | --- | --- | --- | --- |
| | SPE3051 | SPE3102 | SPE6102 | SPE6053 | SPE3103 | SPE6103 |
| Voltage | 30V | 30V | 60V | 60V | 30V | 60V |
| Amperage | 5A | 10A | 10A | 5A | 10A | 10A |
| Power | 150W | 200W | 200W | 300W | 300W | 300W |
| Price | ~ 90€ | ~ 96€ | ~ 96€ | ~ 101€ | ~ 115€ | ~ 122€ |
| | ~ $105 | ~ $112 | ~ $112 | ~ $118 | ~ $135 | ~ $143 |
| | ~ £77 | ~ £82 | ~ £82 | ~ £86 | ~ £98 | ~ £104 |
| | ~ R$558 | ~ R$596 | ~ R$596 | ~ R$627 | ~ R$714 | ~ $758 |
| | | | | | | |
Aliexpress September 2021 aproximate reference prices
Regarding prices, just a small side note, I have a diamond account on Aliexpress due to the amount of things I've already bought and I've noticed that prices vary a lot, so use these only as a reference, because when you buy they can be higher or lower, in reality it is difficult to predict. Marked green in the table is the model object of this review.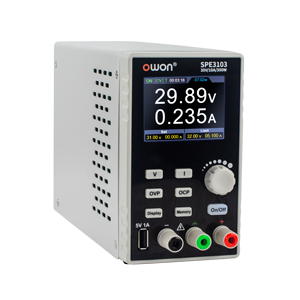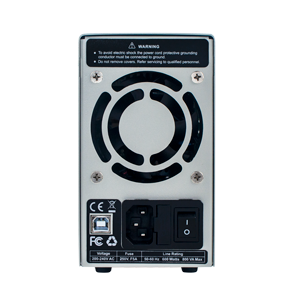 Even without reading the instructions in a few minutes I was able to do most of the functions, from accessing memory, operating cycles, OVP, OCP, it's all very intuitive. For those less used functions, such as automatic power-on, you always have the manual that describes step by step how to configure it.
But what I really have to highlight is the 2.8″ LCD display that gives you fantastic information, you even have a usage graph with lines for voltage and current over time, which turns out to be a mini oscilloscope and the display gives you information in a very clean and easy-to-read way, with all parameters visible on the screen.

The second point that immediately jumps out is that you are given a lot for a very interesting price, this power supply has the ability to program cycles (for example to charge batteries), 2.8″ color LCD screen, has software to connect to the PC and SCPI support to program your own scripts, automatic power-on for unattended use, among other features that you normally only have on much higher-end power supplies, I for example already had all of this on my Rigol DP832, but first two situations:
1) It costs about 4 times or more and the display is monochrome before the upgrade, but let's be honest, it's a 3-channel source. So, to be fair we have to evaluate the 700 series from Rigol which has only 1 channel and offers the following configurations the DP711 with 30V/5A/150W and the DP712 with 50V/3A/150W both for €351 (prices at Batronix September 2021), almost 3 times more than Owon's most expensive model the SPE6103 which costs €122 (Aliexpress prices September 2021). It is true that Rigol is a linear power supply, but the difference is still very considerable.
2) the size and weight is much higher, this for 150W, so the precious bench space occupied is much higher, even considering the DP711/12 model from Rigol.
Few are the bench power supplies that give you 60V/10A/300W and the ones that do, don't cost 122€, so I think this power supply will be a bestseller.
But not everything is wonderful, to keep the cost, Owon had to opt for switching power supply technology that doesn't have a signal as stable as a linear power supply. Despite this, and as you can see from the comparison I made in the video with the FNIRSI DC-6006L, the signal for a switching power supply is really very good.
If you want to know more about the Owon SPE Series Power Supply or buy one, check out this link: https://geni.us/RtIGM
Watch the video where in addition to showing you how the power supply works, I still do a teardown and additionally a comparison of the electrical signal between the Owon SPE3103, Rigol DP832 and FNIRSI DC-6006L.
You can see the video for this article on the top of page and please visit our Youtube channels for more interesting videos.
TechCorner.TV Channels 🇺🇸 🇬🇧
⭐ Electronics – TechCornerTV – Eletronics, Projects & Tutorials
⭐ Tech & Consumer Electronics – TechCornerTV – Reviews & Tips
⭐ Unboxing & First Impressions – TechCornerTV – Mailbag day – Every monday at 8:00 AM GMT
Canais TechCorner.TV 🇵🇹 🇧🇷
⭐ Eletrónica (Reviews, Projetos & Tutoriais) – TechCornerTV – Eletrónica em Português
⭐ Tecnologia & Eletrónica de Consumo – TechCornerTV – Reviews e Dicas

The affiliate links on this page allow us, without increasing your buy price, to receive a small fee in the case of you buying any of the items through our links. If you like to support TechCorner.TV, please use the provided affiliate links for your shopping.
Thank you for reading this article. ❤
If you liked, please share it, spread the love, pass the message on social networks and help us grow.